We recognize that all of our patients are unique and deserve to receive dental care that reflects their individual needs. Our experienced and talented dental team is committed to working with you and your family to create a comfortable, stress-free, and rewarding dental experience every time you visit our practice. We are pleased to welcome you and your family, and we look forward to working with you.
---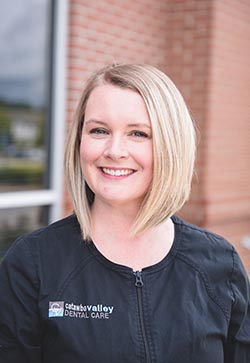 Lindsay
Office Manager
My job entails assisting Dr. Vanourny and Dr. Baker with all aspects pertaining to clinical procedures and to ensure all patients are made as comfortable as possible. I began as an assistant in 2008 and I have been working with Dr. Vanourny since 2012. I grew up around dentistry with my father owning a dental laboratory and my mother working in both dental offices and labs.
My favorite part of my job is being able to make patients comfortable. It is very enjoyable being able to see patient's through their total treatment and seeing their happiness with our care. I love the fact that every day I come to work and feel I am working with great, loyal and passionate people that are truly concerned for our patient's health and satisfaction.
In the fall of 2015 I was married, we enjoy spending time with our kids, hiking with our dog, going to the White Water Center and attending sporting events with family and friends.
---
Malinda
Dental Hygienist
---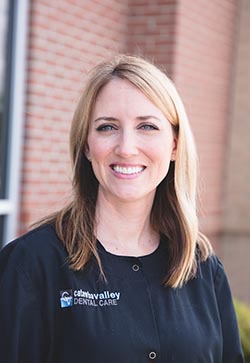 Stacey
Dental Hygienist
I graduated from York Tech in 2008 and after nine years in dentistry, joined Catawba Valley Dental Care in 2017. I am responsible for performing cleanings and treating periodontal disease. I also take X-rays, place antibiotics and sealants, and counsel patients on nutrition and home care.
I love working at Catawba Valley Dental Care. Everyone cares so much for their patients and coworkers; it is very much like a family environment.
I have been married to my husband Jon for six years. We have a son named Luke and two dogs. We enjoy boating on Lake Wylie, vacationing in Hilton Head, and spending time with family and friends.
---
Colleen
Dental Hygienist
I have been a dental professional for 32 years. My career began as an Orthodontic Assistant where I quickly realized great joy in playing a part in creating beautiful smiles and making people happy!
I quickly decided dental hygiene was MY path to make a difference in people's overall health/oral health. I appreciate the importance of great dental care, enjoy creating relationships with patients and believe in gaining a mutual trust.
My husband and I have been married 6 years. Together, we have 4 children and 2 gandchilren. We enjoy camping, boating, traveling and spending time with our family and friends.
---
Jackie
Dental Hygienist
After an 8 year career as a Food Scientist, I returned to school to become a Dental Hygienist. I graduated from York Tech in 2017 and have been practicing the profession ever since. I have a passion for marrying my experience as a Food Scientist/Nutritionist with oral hygiene and educating patients on the importance of good oral health care.
My favorite part of working as a dental hygienist at Catawba Valley Dental Care is the ability to get to know my patients personally. Getting to know each patient allows me to provide top-notch dental care and alleviate fears, talk about smile goals, or to encourage proper oral hygiene. It's rewarding to have a patient walk out of the office having had a wonderful experience.
Outside of work I have three beautiful children, Cameron, Riley and Matthew, and a wonderful husband, Joe. I enjoy spending my time gardening, cheering my kids on the soccer field or traveling.
---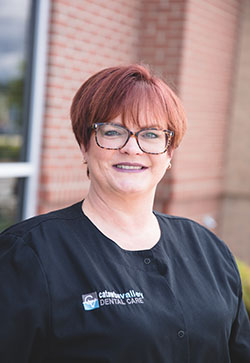 Michelle H.
Dental Assistant
I joined the team at Catawba Valley Dental Care in March of 2018 and have been working in the dental field for 20 years. I love my job because I enjoy having a part in putting a smile on our patients faces and watching them walk out healthier and happier.
I have one son and recently married, adding 3 bonus children and 2 bonus grandchildren. For fun I enjoy taking weekend trips.
---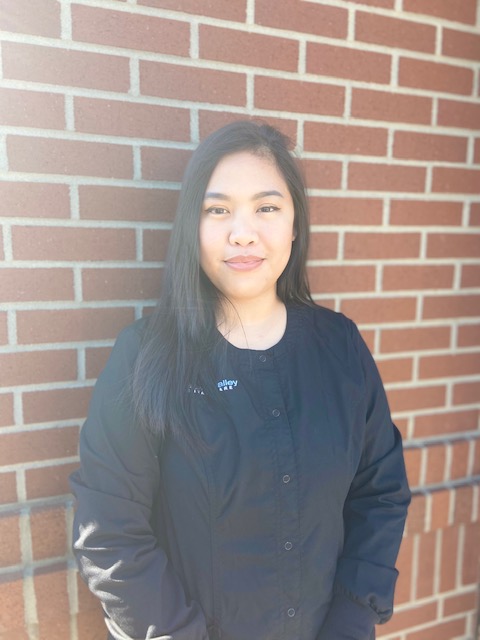 Vanessa
Dental Assistant
I joined Catawba Valley Dental Care in December of 2019. My job entails assisting Dr. Vanourny and Dr. Baker with different types of dental procedures. I started working as an assistant in 2017 after graduating from Concorde Career College in Colorado.
My favorite part of my job is seeing the patient happy and satisfied. I also love working with the best providers and team.
I married my husband Tailor in 2018 and we share a bearded dragon named Thorn together. I enjoy reading books, traveling and fishing.
---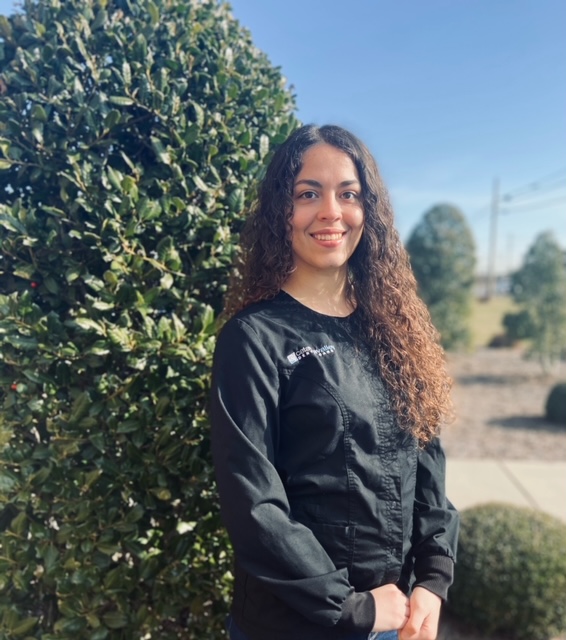 Maegan
Dental Assistant
I joined the team at Catawba Valley Dental Care in September of 2020. I love what I do because I enjoy making others feel more confident in their smiles while also keeping them healthy.
My job entails assisting Dr. Vanourny and Dr. Baker during procedures so they can provide efficient, high quality care to our patients.
I'm a native to Georgia, I have two cats, I enjoy being outdoors and spending time with family and friends.
---
Kristina
Dental Assistant
I joined the Catawba Valley Dental Care team in April of 2022. My job consists of assisting Dr. Vanourny and Dr. Baker. I have developed a passion for making patients feel more comfortable in the dental chair, and about their teeth!
The best part of my job is seeing people leave happy and healthier. Outside of the office I have one wonderful little girl, Temperance, and an amazing husband, Thomathy. I love to go to the mountains any chance I get. I also enjoy cooking, gardening, and arts and crafts.
---
Blerta
Insurance Coordinator
I am the insurance coordinator at Catawba Valley Dental Care and joined the team in early 2018. I am here to help our patients understand their dental insurance better and answer any questions they may have. It is a pleasure to work with a team that cares greatly for their patients and each other!
I was born in Albania and migrated to the United States with my family when I was a little girl. In my spare time I enjoy a good book, traveling as much as I can and sports.
---
Alex
Financial Coordinator
---
Ashley
Scheduling Coordinator
I graduated from Queens University and recently joinged CVDC in 2022. I am in charge of scheduling patients as well as the friendly face greeting you when you arrive. One thing that makes this job special is the devotion we have to our patients. We want our patients to feel relaxed when they are here and we offer a complimentary menu of cozy accommodations.
I am married to my wonderful husband and we have a daughter, a son and a dog. We enjoy boating, hiking, and we take trips to the mountains and the beach.
What makes working at CVDC great is the dedication we have for our patients is the same given to our team. We are a family here and we want our patients to feel as if they are a part of it as well.